CRUISE SUMMARY REPORT/ROSCOP FORMS
 CRUISE NAME:MTPII-MATER/M1BGSA-MAR97 IDENTIFIER: GN36199704601 
 Ship Name: R/V AEGAEO                Call Sign: SXYY 
 Ship Type: Research Ship  
 PROJECT: MASTIII-MTPII-MATER
 Scientific Coordinating Body: NCMR 




Chief Scientist(s) (3 max) : A) Alexander Theocharis

Laboratory : NCMR, Institute of Oceanography Address : Aghios Kosmas, Hellinikon, 16604, Greece Tel : (++301) 98.15.703 Fax : (++301) 98.33.095 Email : alekos@nhreas.ncmr.gr




Other Participating Bodies :

B) E. Souvermezoglou, NCMR, Institute of Oceanography
C) I. Siokou, NCMR, Institute of Oceanography
D) E. Christou, NCMR, Institute of Oceanography
E) A. Giannakourou, NCMR, Institute of Oceanography
F) S. Psara, IMBC, Crete
G) K. Pitta, IMBC, Crete
H) G. Kouvarakis, Univ. of Crete
I) F. Van Wambeke, Univ. of Marseille


Objectives :

The principal scientific objectives of the first winter cruise in the frame of MATER-WP4 project, were to carry out an hydrological, chemical / sea water and biological survey in order to study the winter biogeochemical fluxes in the South Aegean Sea.

Cruise Period Start : 04 March 1997 End : 11 March 1997

Port of Departure : Piraeus-Athens Port of Return : Heraklion-Crete

SEA/OCEAN : Coded Region : D33 Local Name : AEGEAN SEA

Geographical Limits
| | | | | |
| --- | --- | --- | --- | --- |
| North : | N36 04.50 | | | South : N35 40.00 |
| West : | E025 06.00 | | | East : E026 13.00 |
Description of the field observations :

The field programme included the following measurements and samplings, using an SBE 9/11 plus-CTD profiler mounted on a General Oceanics 12-Niskin bottle (8lit) Rosette and zooplankton nets:
CTD measurements for pressure (depth), temperature, conductivity and light transmission.
Water samples for dissolved oxygen, nutrients and CO2 determination.
Water samples for DMS analyses.
Water samples for determination of Primary Production, New Production, Total Chlorophyll-a, Chlorophyll-a fractions, Picoplankton prefiltered, Phytoplankton, POC and Nitrogen.
Water samples for Microzooplankton and net samples for Mesozooplankton studies.
Net samples for Copepod egg and fecal pellet production (secondary production), gut content, taxonomic trends and biomass of mesozooplankton in the aphotic layer.
On board experiments for Copepod egg and fecal pellet production.
Samples for bacterial production and biomass studies.
At each station four to six CTD-Rosette casts were performed depending on the quantity of water needed to be sampled at preselected depths.




STATIONS LOCATION AND TYPE OF MEASUREMENTS



| STATION | DATE | TIME GMT | LATITUDE | LONGITUDE | TYPE CODE (ROSCOP) |
| --- | --- | --- | --- | --- | --- |
| MSB-2 | 06/03/97 | 10:00 | N35 44.70 | E025 06.00 | B01, B02, B07, B08, B09, H10, H21, H22, H24, H25, H26, H33, H74, H76 |
| MSB-1 | 07/03/97 | 02:55 | N36 04.50 | E025 17.00 | B01, B02, B07, B08, B09, H10, H21, H22, H24, H25, H26 , H33, H74, H76 |
| MSB-7 | 08/03/97 | 05:55 | N35 40.00 | E026 13.00 | B01, B02, B07, B08, B09, H10, H21, H22, H24, H25, H26 , H33, H74, H76 |
| MSB-6 | 09/03/97 | 04:15 | N36 00.00 | E025 42.30 | B01, B02, B07, B08, B09, H10, H21, H22, H24, H25, H26 , H33, H74, H76 |
DISCIPLINES
CODE
DISCIPLINES

BF

MARINE BIOLOGY & FISHERIES

HC

CHEMICAL OCEANOGRAPHY (Hydrology)

HP

PHYSICAL OCEANOGRAPHY (Hydrology)
IOC MEDITERRANEAN REGIONS
| IOC REGION | CODE |
| --- | --- |
| AEGEAN SEA | D33 |
BIBLIOGRAPHICAL REFERENCES (DATA REPORTS) :
ROSCOP PARAMETER CODES
CODE
PARAMETER
MEASUREMENT DESCRIPTION
Nb Obs.
Scientist
B01
Primary Production
Primary Production
New Production-15N

4
2

F

B02
Phytoplankton pigments(eg chloroph.)
Total Chlorophyll-a and Chlorofyll-a fractions

4

B07
Pelagic bacteria/micro-organisms

4

I

B08
Phytoplankton
Phytoplankton and Picoplankton prefiltered

4

B09
Zooplankton
MicroZ, MesoZ, Secondary Production

4

E, G, C, D

B71
Particulate organic matter(inc POC)
POC and Nitrogen

4

H10
CTD stations
In situ measurements of pres, temp, salin, dissolved oxygen, light transmission

4

A

H21
Oxygen
Winkler method on board

4

B

H22
Phosphate
Murphy and Riley method on board

4

B

H24
Nitrate
Strickland and Parsons method

4

B

H25
Nitrite
Strickland and Parsons method

4

B

H26
Silicate
Mullin and Riley method

4

B

H33
Other dissolved gases
Vertical and horizontal profiles of DMS (dissolved),vertical profiles of DMSP, DMSO (total, dissolved)

4

I

H74
Carbon dioxide

4

B

H76
Ammonia
Koroleff method on board

4

B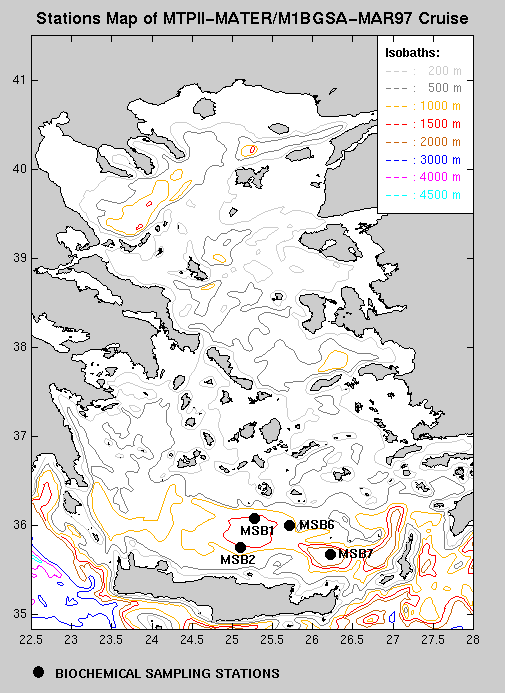 ---

Back
---

For any question or remarks please contact to A. Theocharis